Elimileak EL 040 - Hard Wired System
The EL 040 M is the original Hard Wire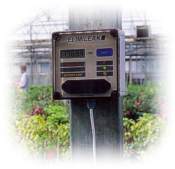 d version of the Elimileak Water Usage and Leak Detection System and still has many applications today such as the horticultural and agricultural sectors.
The EL 040 M is usually positioned in the vicinity of the water meter and is permanently connected to it by a thin length of low voltage cable. Constructed in a robust, water resistant enclosure the monitor unit can be located inside or out. The system is entirely battery powered and therefore needs no mains connection.
The EL 040 M monitor unit will display the amount of water used (since it was last reset to zero) and will give an audible and visual alarm when a possible leakage situation has been detected.